«All these shows are compelling and effective propositions for advertisers that deliver real business results,» Mr Burnette said. «Seven's share of the market is a clear reflection of the continual delivery of those metrics.»
Sources close to Seven said there had been some «make goods» – where refunds to advertisers are made for not reaching promised audience figures – but did not consider them substantial.
Seven swallowed about 3 per cent more of the ad market at the expense of Ten.
Ten chief sales officer Rod Prosser expects improvement next month after hiring new sales staff following a split from News Corp's Foxtel advertising sales joint venture Multi Channel Network.
«We have some good momentum in the market as we continue the process of embedding our sales team in-house,» Mr Prosser said about the latest revenue share figures.
In January, Nine recorded a 45 per cent market share, Seven secured 39 per cent and Ten managed 16 per cent. Nine was broadcasting the Australian Open after buying the rights to the tennis last year, which large audiences watched.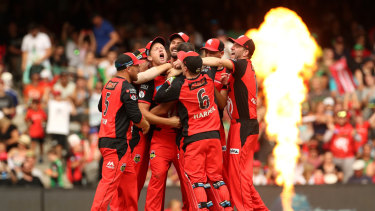 Ten's result was the lowest ever commercial free-to-air revenue share on record. The broadcaster was facing the first year of a new cricket rights deal between Foxtel and Seven that saw Big Bash League moving from Ten and onto the rival network and subscription television.
Last month, Mr Prosser promised improvements after January, though the turnaround was largely expected from March onwards.
Nine chief sales officer Michael Stephenson said the network was focused on consistent ratings, and Married had been a «success in every way» for audiences, sponsors and on the catch-up streaming app.
«Its ratings dominance has set us up well as we launch our massive second quarter schedule,» he said.
Free-to-air television sources said the overall advertising market was down year-on-year but «not as badly» as January, which TV and other industries relying on ad spend found to be a difficult month.
Media buyer Omnicom Media Group chief executive Peter Horgan said it was a «good result for Seven» but called the numbers «a bit of a blip» given the large audiences watching Married.
While some media sources have speculated advertisers would avoid the show, due to its controversial content, he said for any that dropped out «there would be plenty of others queuing up for the big ratings and reach».
Loading
Jennifer Duke is a media and telecommunications journalist for The Sydney Morning Herald and The Age.