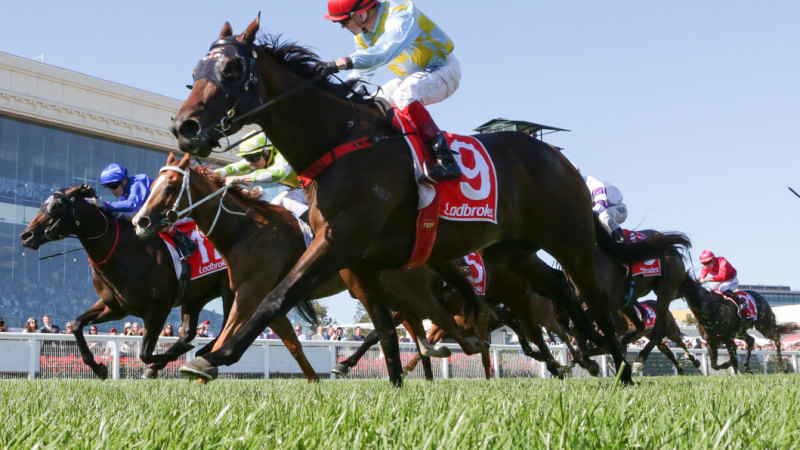 The hot favourite Nature Strip – who went off at the cramped odds of $2.30 in such a competitive handicap – blazed the trail out in front under Damian Lane until being headed in the closing stages, eventually fading to finish tenth of 18.
Ellerton's other two winners were River Dove in 2003 and Miss Kournikova in 2001, the latter, said the trainer, one of the most talented horses he has ever prepared.
But Booker will also take high order now that she has built on her fourth-place finish in the race last year.
«We had a chequered start to the spring with her so this is very satisfying. She had a minor throat operation at the start of the spring before she resumed,» Ellerton said.
«We had a really smooth preparation this time round. She was fourth last year as a three-year-old but she's a bit older and stronger, blinkers made a difference probably.»
He was full of praise for Yendall's ride.
«He certainly rode her 10 out of 10 today. She drew 14, he cut the corner and saved a lot of ground. I was waiting for him to edge out but he didn't. It's a great result. She's certainly a deserved winner of a group 1.
«She's a quality mare, this is her time to shine. You can probably forgive her spring campaign although she ran well on Derby Day.»
Ellerton is undecided about whether to aim Booker at the Newmarket Handicap in two weeks.
«I don't know. I kick myself for running her last year, but we might change our minds a bit.
«She will make her way to Sydney. She may well go to Brisbane and or Adelaide as well.»
«She's very sound and I think she has got good improvement in her from today.»
Yendall said Booker had been «a pleasure to ride».
«She just did everything right in the run, she began cleanly , followed the right horses, I was hoping Linda [Meech, aboard fourth-placed Bons Away] would get going a bit early so I could track her into it,» the jockey said.
'But she wasn't going as well as she would have liked to have been so I just made my own decision, cut the corner a little bit, and there was plenty of room to go in the straight.»